Jannat Mirza is a brilliant Tiktoker who has 22 million plus followers on the social media app Tiktok. She also has a substantial Instagram following. Jannat is a successful entrepreneur as well. Lately, she has given an interview to Hassan Choudary for The Talk Talk Show where she revealed about her meeting with Bushra Ansari after their online controversy.
Talking about it, Jannat Mirza said, "I met Bushra Ansari two days ago, I greeted her, firstly, she went away, then she again came to me and hugged me, well, she remembered me as well. She said, 'oh, I am sorry for whatever has happened between us', she is such a nice lady. It's great that she has handled it so well". She further talked about Aiman Khan. Jannat Mirza says she has no beef with any of the television artists. Here is the video link:
Remember that Jannat Mirza unknowingly wore a chain with his pants, the chain had the holy sign of Christians 'Cross' engraved on it. Bushra Ansari termed Jannat Mirza 'ignorant', Jannat Mirza addressed the senior actress as 'Amma Jee' and at the same time advised her to know the truth before criticizing. Look at the posts.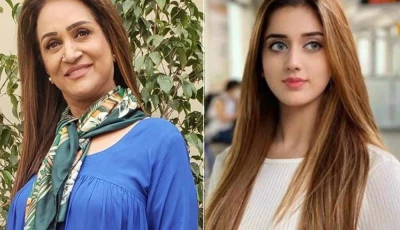 In an old interview to Nauman Ijaz, Bushra Ansari also said that she didn't know anything about Jannat Mirza when she posted a comment about her.