Over the years, there have been several films that have tackled various conditions that lower a person's self-esteem like skin colour, obesity, stunted growth etc. Premature balding, however, has rarely been the central plot point of a film. Two very lesser known films like I M 24 [2012], HAIR IS FALLING [2011] etc have dealt with the issue but they sank without a trace. Producer Abhishek Pathak for his directorial debut, UJDA CHAMAN, tackles this idea in the romcom space. So does UJDA CHAMAN manage to entertain and move audiences? Or does it fail to entertain? Let's analyse.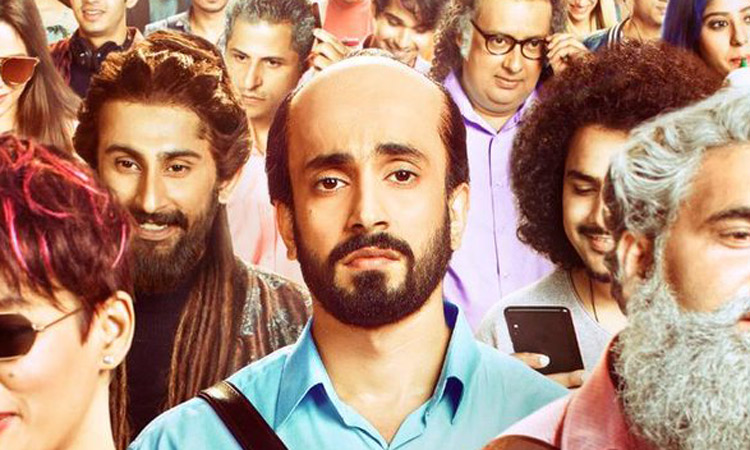 UJDA CHAMAN is the story of a man in search of a life partner. Chaman Kohli (Sunny Singh) is a 30-year-old lecturer in Delhi's Hansraj College. He has faced acute hair loss in the last five years, affecting his self-esteem and also his marriage prospects. His parents, Shashi Kohli (Atul Kumar) and Sushma Kohli (Grusha Kapoor) put his five-year-old picture in his marriage bio-data and when he goes to see a prospective bride, he wears a cap. Sadly, the cap comes off and the prospective bride and her family kick the Kohli's from their house. Their family astrologer (Saurabh Shukla) adds to their tension as he claims that if Chaman doesn't get married before his 31st birthday, he'll remain celibate for life. Chaman tries to find love, first at the marriage ceremony of a friend but it proves futile. Later, he tries to woo a fellow lecturer, Ekta (Aishwarya Sakhuja) but she rejects him as she is already dating someone. All of a sudden, a first-year student, Aaina Ali Khan (Karishma Sharma) shows interest in Chaman. Chaman falls for her but in no time, he realizes that she hung out with him for vested interests. With no other option, Chaman accepts his father's suggestion and downloads Tinder. He uploads his picture, but by cropping his bald patch. In no time, he matches with Apsara (Maanvi Gagroo), who is overweight and just like Chaman, she too puts a close up picture to hide her so-called imperfection. Both decide to meet and obviously get shocked looking at each other. What happens next forms the rest of the film.
UJDA CHAMAN is an official remake of the 2017 Kannada film, ONDU MOTTEYA KATHE (Writer: Raj B Shetty). Danish J Singh's adapted story has immense potential as a lot of people can relate to the goings on shown in the film. But Danish J Singh's screenplay plays spoilsport. The narrative is engaging but only in parts. Danish J Singh's dialogues are funny and matter-of-fact.
Abhishek Pathak's direction is not worthy enough. The execution seems a bit amateurish and over-the-top. The manner in which Chaman is ridiculed almost on a daily basis by the students because of his receding hairline is too much. Moreover, the direction style is not consistent. The second half looks very different from the first half. Also, with nothing unique happening in the film, the narrative becomes extremely predictable. On the positive side, a few scenes work like the track of Aaina and the hospital scene.
UJDA CHAMAN begins on a fun but very loud note with the initial portions being mildly engaging. The humour looks forced in the scene where Chaman attempts to assault his brother Goldy (Gagan Arora). The track of Aaina is thankfully better but still, the film doesn't reach a high. The intermission point is interesting and the film seems promising from here on. And the initial portions of the second half are very entertaining as Chaman and Apsara get close. But after a point, nothing novel or interesting happens. The film gets dragging and predictable. The final scene is cute but comes too late in the film.
Ujda Chaman: Public Review | First Day First Show | Sunny Singh Nijjar | Maanvi Gagroo
Sunny Singh gives his best but the desired impact is not made. The manner in which he seems so serious and lifeless throughout the film is difficult to digest. Even his narration in the beginning is needlessly done in a sombre tone. Maanvi Gagroo does quite better and is a natural. Her issues and predicaments seem very relatable and she plays the part nicely. Atul Kumar also does a genuinely good job. Grusha Kapoor is very loud. Gagan Arora is passable. Karishma Sharma plays her part as per the requirement. Aishwarya Sakhuja has a great screen presence. Sharib Hashmi (Raj) is good but sadly his track is predictable. Saurabh Shukla is strictly okay.
Music is disappointing. Only 'Chand Nikla' gets registered. The rest of the songs like 'Twinkle Twinkle', 'Outfit' and 'Oh Bandeya' are forgettable. Hitesh Sonik's background score is too loud and dramatic.
Sudhir K Chaudhary's cinematography is neat. Tarpan Srivastav's production design is in sync with the film's setting. Preetisheel Singh's make up and prosthetics are flawless. Rahil Raja and Himanshi Nijhawan's costumes are realistic. Mitesh Soni's editing is sans complaint and the film's length is appropriate at 120 minutes.
On the whole, UJDA CHAMAN has a promising and relatable story but the inconsistent execution and predictable narrative spoils the show. At the box office, thanks to limited buzz and lack of popular names, the film will have a difficult time.