The word 'sperm' was considered taboo in Hindi movies until 2012. Then came VICKY DONOR – the story of a sperm donor – and it made the term very common and acceptable. Seven years later – after this path-breaking film – yet another Hindi movie takes to tell a genuinely hatke story – GOOD NEWWZ.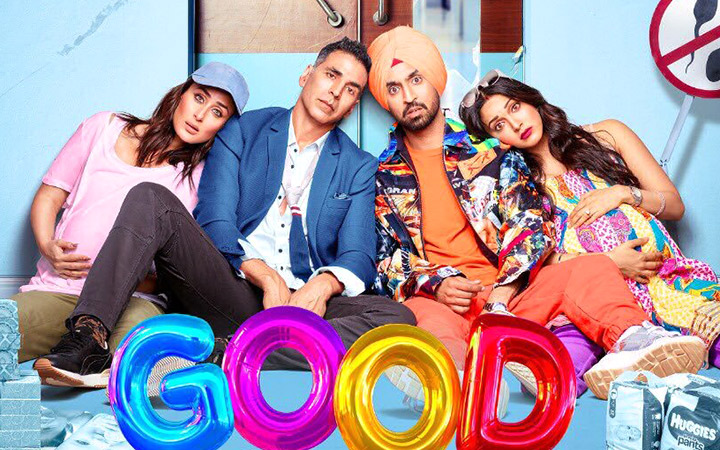 GOOD NEWWZ has generated tremendous excitement thanks to its subject mainly, besides its eye catching star cast. The trailers have also done the trick. The question is, does the film deliver in totality?
The plot line *without* revealing the spoilers… GOOD NEWWZ is the story of a goof-up of epic proportions. Varun Batra [Akshay Kumar] works in an automobile showroom in Mumbai. He is married to Deepti aka Deepu [Kareena Kapoor Khan], a journalist, since seven years. They are keen to start a family, but aren't able to do so.
At the insistence of Varun's sister [Anjana Sukhani], both decide to visit a fertility clinic run by a reputed doctor, Dr Joshi [Adil Hussain]. Dr Joshi suggests that they opt for IVF. Varun and Deepu give their go ahead.
Honey Batra [Diljit Dosanjh] and Monika [Kiara Advani], a Chandigarh-based couple, also visit Dr Joshi. Their last names leads to a confusion and subsequently, a big goof-up.
GOOD NEWWZ has an interesting plot, but most importantly, it boasts of a smart and engaging screenplay. The writers juxtapose drama, emotions, romance and humour seamlessly in the narrative, which makes this one an enjoyable ride from commencement to conclusion.
The writers come to the point at the very start of the film, while the goof-up is well integrated in the screenplay. There's hardly any dull moment, frankly. Sure, the film could've done without a song or two, but these are minor glitches in an otherwise watertight script. While the drama keeps you hooked, the dialogue only heighten the impact of several sequences.
Good Newwz | Public Review | Akshay Kumar | Kareena Kapoor Khan | Diljit Dosanjh | Kiara Advani | First Day First Show
Raj Mehta [GOOD NEWWZ marks his directorial debut] is in total command of the situation. This is a damn difficult subject to handle when you are a first-timer, but he deserves brownie points for doing complete justice to the written material.
The director handles the second hour most admirably. A number of sequences are maturely handled, especially when Kareena and Kiara bond over paani puri or the sequence in the hospital when Akshay breaks down.
GOOD NEWWZ is embellished with sincere and noteworthy performances. Akshay Kumar is in terrific form. His emotional portions in particular are remarkable. It's a delight to watch Kareena Kapoor Khan after a hiatus. She's excellent. Also, she looks stunning. Diljit Dosanjh arrives late in the film, but once he does, he takes the film to another level. He's top notch. Kiara Advani doesn't have much to do in the first half, but post interval, she makes sure she scores in several sequences.
Adil Hussain has his moments. Tisca Chopra is wonderful. Anjana Sukhani and the actor playing her husband are dependable.
The soundtrack is in sync with the film. At least two songs stand out – 'Sauda Khara Khara' and 'Chandigarh'. The DoP captures the mood as well as the emotions well.
On the whole, GOOD NEWWZ is a sure-fire hit. Smart writing, fantastic humour and heartfelt emotions are the three pillars of this well-made film. The fourth pillar being the performances of its principal cast. At the boxoffice, 2019 is sure to conclude with a big winner, bringing cheer and joy in this festive season. GOOD NEWWZ will live up to its title and bring good news for its investors.