Food is a necessity of life, this is the reason people are always on a lookout for quick and easy recipes. Irrespective of the fact whether someone is into food and cooking or not, quick and easy recipes come in handy and are always needed in times when one doesn't want to put too much effort and just eat a hearty meal.
It is due to the advent and wide usage of social media, Pakistani celebrities have started to get more comfortable with the idea of sharing their life and personal experiences with their fans. Food being one of the most important aspects of life doesn't get ignored because now, more and more celebrities are coming to the forefront with their tried and tested recipes to share it with their fans and followers. Pakistani nation is passionate about food, therefore they are always on the lookout for different recipes and now, the celebrities have also started to teach a few that they know, which in one way or the other also inspires the healthy eating habits in those who try these recipes.
Let's take a look at the quick and easy recipes shared by Pakistani celebrities:
Immunity Boosting Herbal Tea by Kubra Khan
Kubra Khan took it to Instagram to share the recipe of antiviral, herbal tea that she makes for herself. This was her small attempt to also educate people on what they could do to boost their immunity in dire current times, which the entire world is faced with. Kubra Khan broke it down to very simple steps and showed how this tea could be made out of all those basic ingredients which are available in every household. To make this tea, all you need is Garlic, Lemon, Honey and Hot Water.

Vitamin C Smoothie by Aijazz Aslam
Just like every other celebrity, Aijazz Aslam is also quarantining at his home, however he is using this time to connect with his fans and also teach them a few of his simple recipes. With summer approaching, this smoothie is easily going to be everyone's favorite and also, will be an excellent source of Vitamin C. All you need to make this smoothie is Apple, Strawberries, Guava, Beetroot and Orange Juice, blend it and enjoy.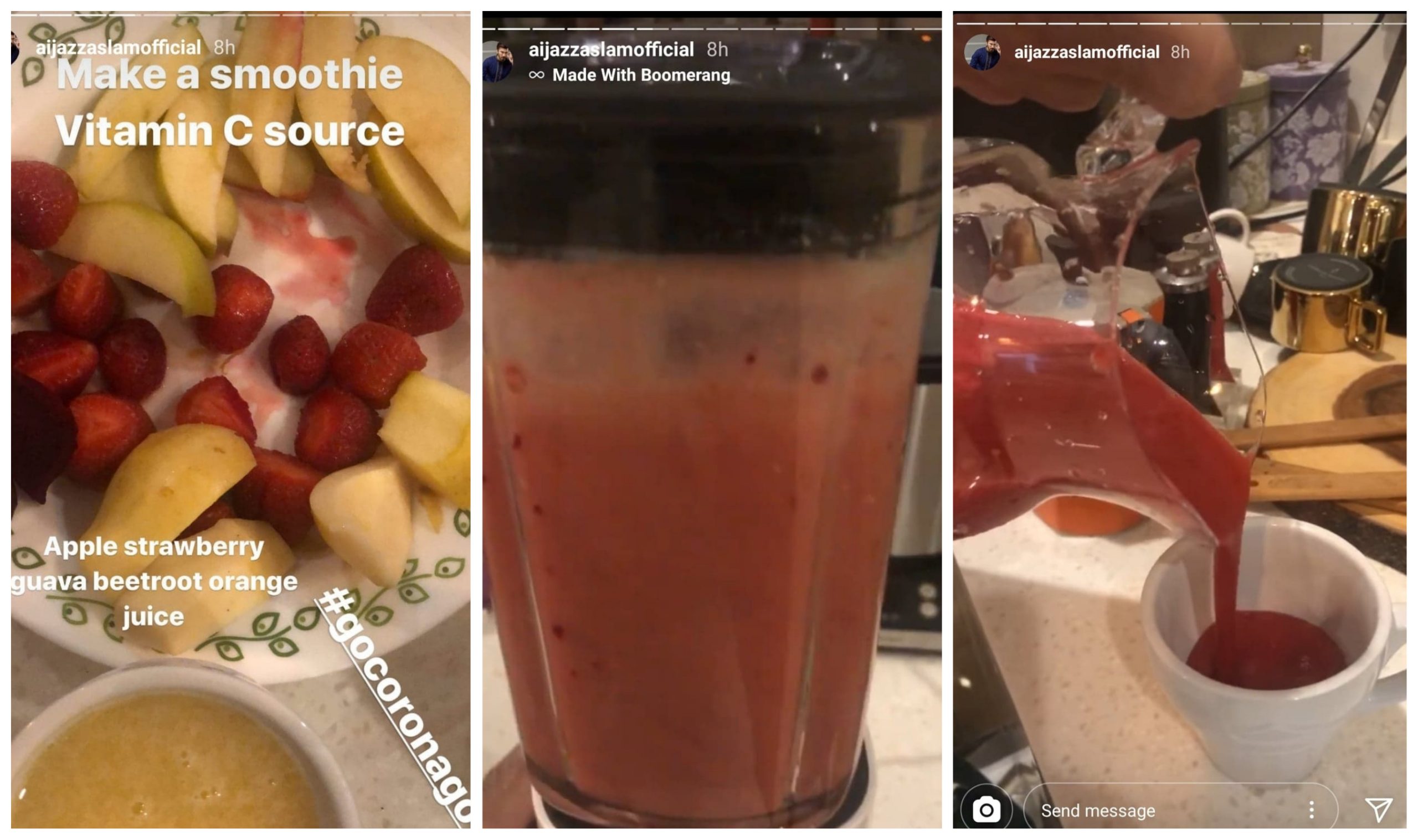 Ginsoy Chicken Chowmein by Arij Fatyma
Arij Fatyma has started her Youtube channel and she shares her journey with her fans and connects with them. Be it her skincare, makeup, clothing or cooking, she showcases everything. Arij Fatyma took it to her Instagram to share this quick and easy recipe of Ginsoy Chicken Chowmein. A healthy pasta which mothers can make and sneak in as many vegetables as they want for their kids because no matter what, they enjoy pasta the most. She shared a detailed list of ingredients and the entire procedure to make it easy for those who wanted to try it.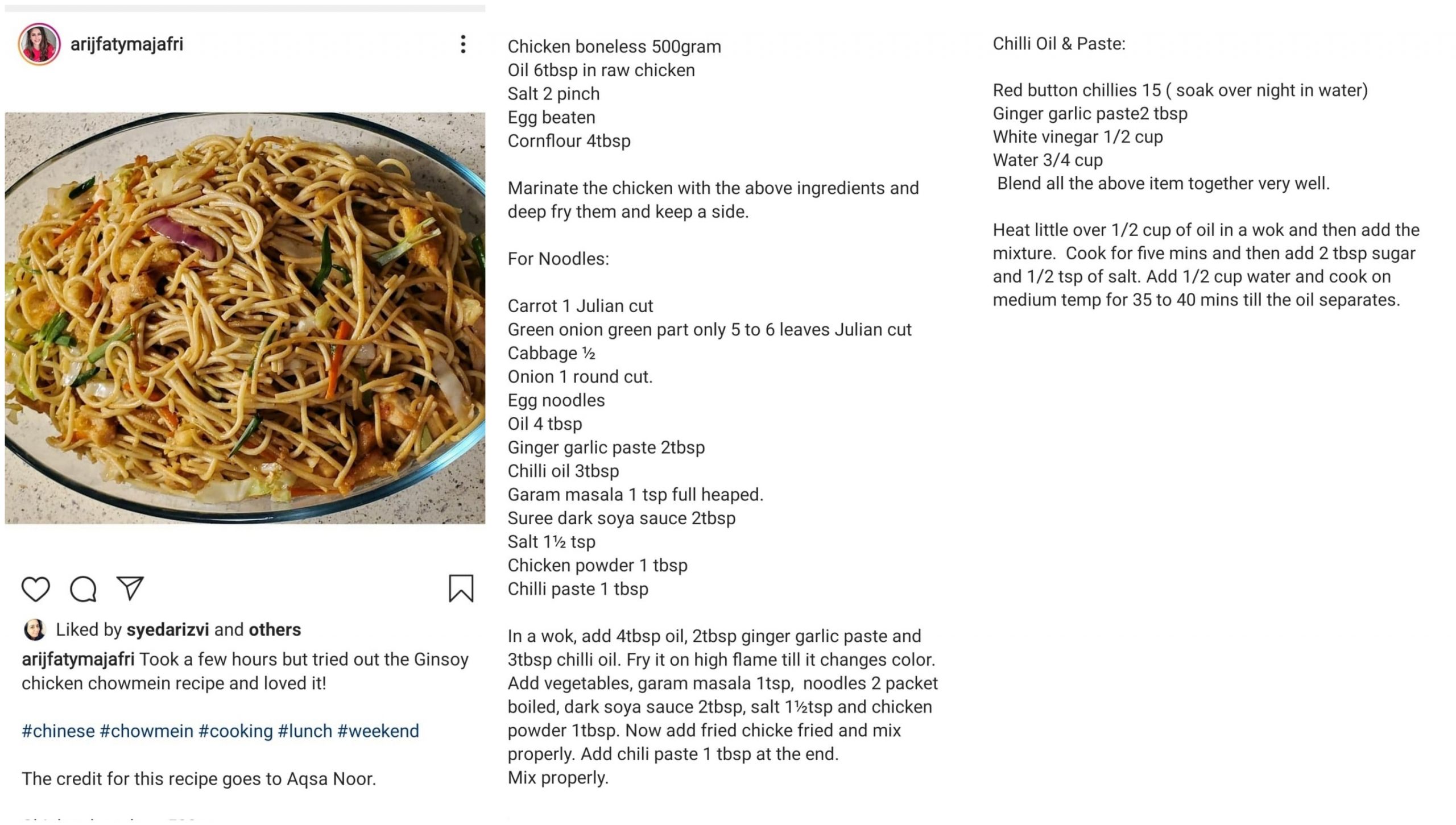 Hi Octane Tea by Ahad Raza Mir
Ehd e Wafa is going to be remembered for a lot of reasons, however it won't be wrong to say that Saad's Hi Octane Tea is also going to be one of them. Pakistan is a tea-loving nation and it is one such concoction which kickstarts most of the people's day and also serves as a refresher by the evening after a long day. This is the reason after Saad was seen making this promising tea which was loved by the soldiers, people grew curious and then Ahad Raza Mir's mother took it to her Instagram to do Ahad's fans a favor by sharing this quick and simple recipe.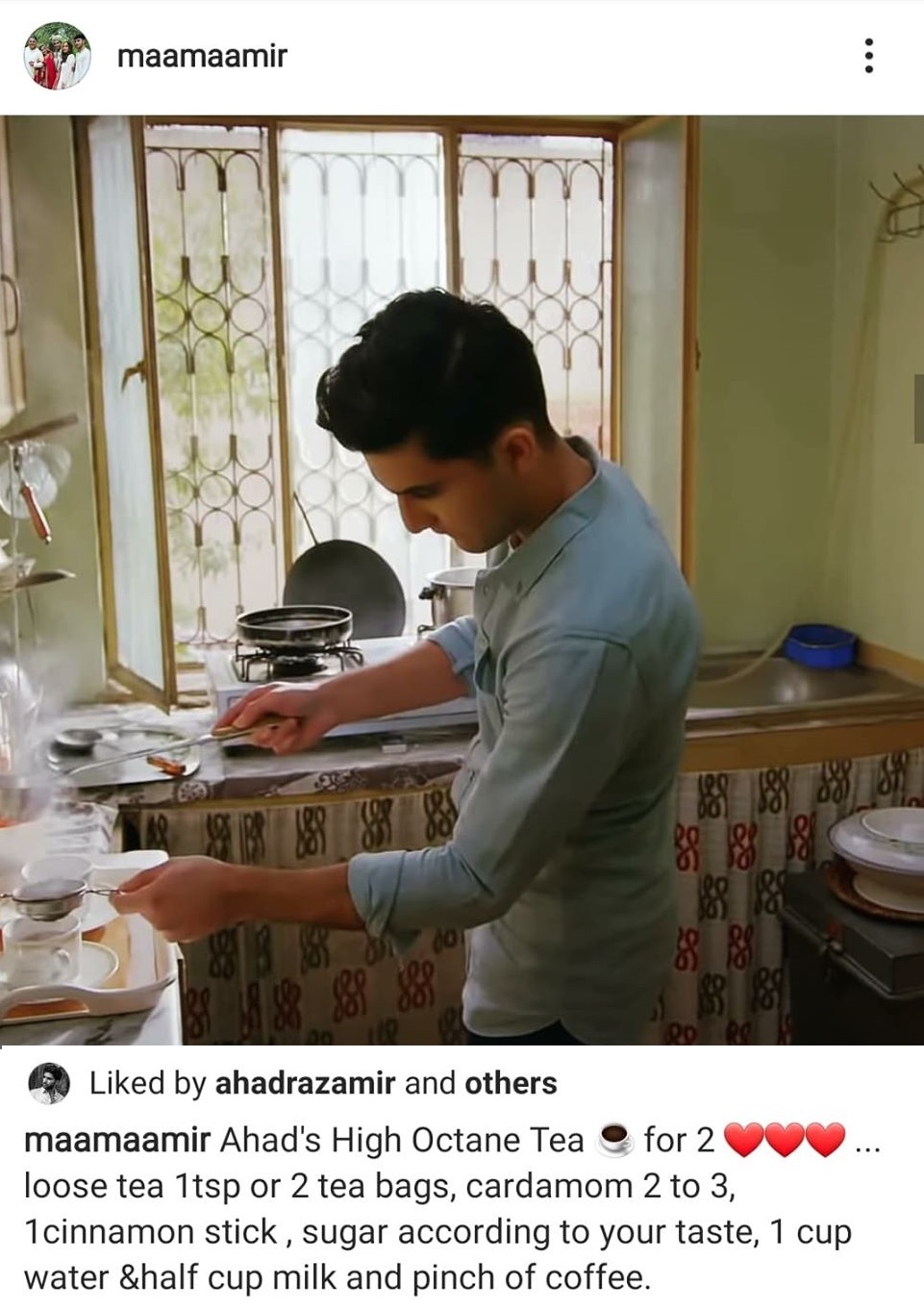 Low Calorie Brownies by Aijazz Aslam
Aijazz Aslam is into fitness and he is also very conscious about what he eats. All these interesting recipes that are coming from Aijaz Aslam are not only mouth-watering but also very quick and easy. This one is going to be a treat for all the brownie lovers because it is not only quick and simple, it is also low in calories. Aijazz Aslam broke it down in simple steps and showed that it only took him 15 minutes to create this goodness. In quarantine days, AIjazz Aslam's Instagram account should definitely be followed by all the food lovers.

Mixed Berries by Imran Abbas
Imran Abbas took his fans into his kitchen and showed what he was making for himself, yes, it was a bowl full of healthy goodness. This one is again a summer-appropriate recipe which is not only healthy, but is fulfilling and super quick. Imran Abbas broke it down for his fans and showed what they will be needing to create this recipe. All that is needed to make this healthy snack is Blueberries, Strawberries, Raspberries, Greek Yogurt and Organic Honey.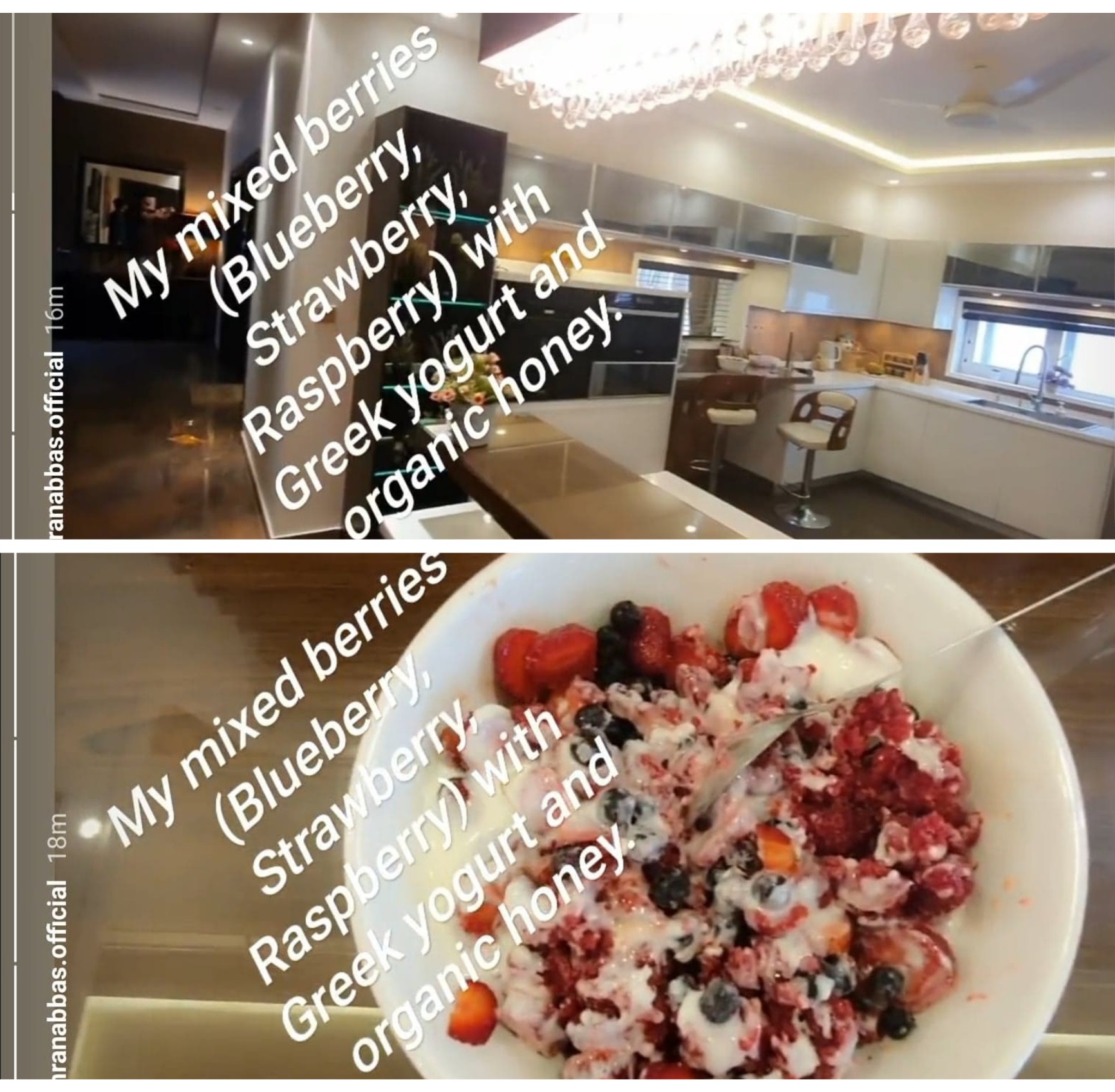 Palak Paneer Gosht by Nazish Jahangir
Nazish Jahangir not only made this yummy-looking Palak Paneer Gosht, she also showcased her Roti making skills in this short tutorial that she shared on her Instagram. She used a lot of tomatoes, sliced some onions and after the mutton was ready, she grinded the spinach to turn it into a thick paste. The end results were mouth-watering and amazing.
Fat Free Chicken Karahi by Sana Fakhar
Sana Fakhar is probably the fresh entry in the Youtube community. Her transformation is exemplary, therefore all that she eats is definitely going to be closely watched by people who are watching their weight. Sana Fakhar shared a tutorial of this simple and easy Fat Free Chicken Karahi, which she has created herself by keeping all the concerns of her family in mind. She spoke about how this recipe is going to fulfill the cravings of eating spicy food while still being healthy. It is also good for those who have cholesterol issues and can not consume regular chicken karahi due to its fatty content.
Okra Fry by Sajal Aly
Sajal Aly just got married and this is the reason, everyone is keeping a close eye on what she is upto. The fans were taken by surprise when she took it to her Insta stories to share what she was cooking. Sajal Aly didn't share the exact recipe but shared detailed snippets while cooking, which made it easier for everyone to figure out how she made the Okra. She went the traditional way by making ginger garlic paste in mortar and pestle. Fried the okra and later prepared the base of it by using lots of chopped tomatoes and fried onions, later added the okra in the mixture and it was ready. What's the best part about this entire process was her typical wifely call to her husband Ahad telling him that the food is ready.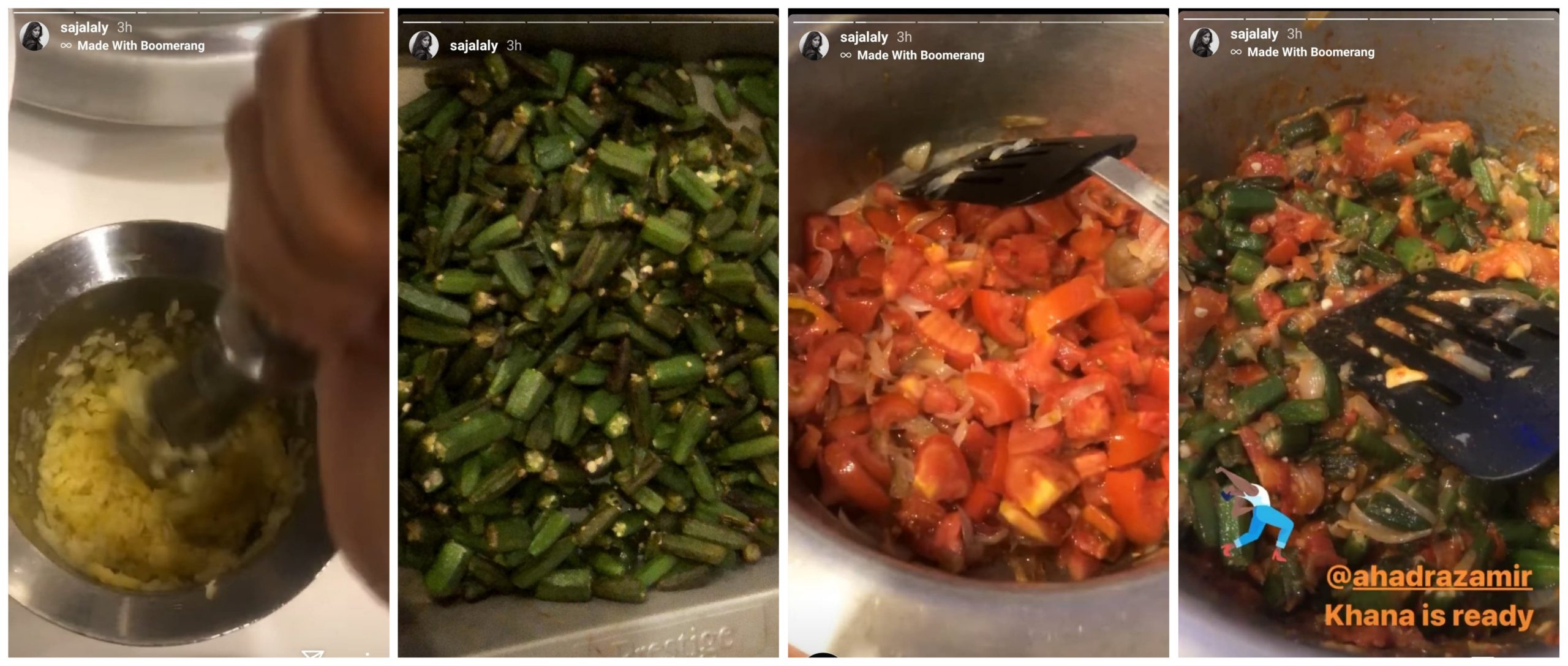 Quick Fix Breakfast by Mehwish Hayat
Mehwish Hayat took it to her Instagram to share the short and sweet recipe of her breakfast on the go. This recipe is convenient for the days when people do not have much time on their hands but should not skip breakfast because it is probably the most important meal of the day. She shared that after popping the container of yogurt open, she adds granola and fruits and that's it, her breakfast is ready.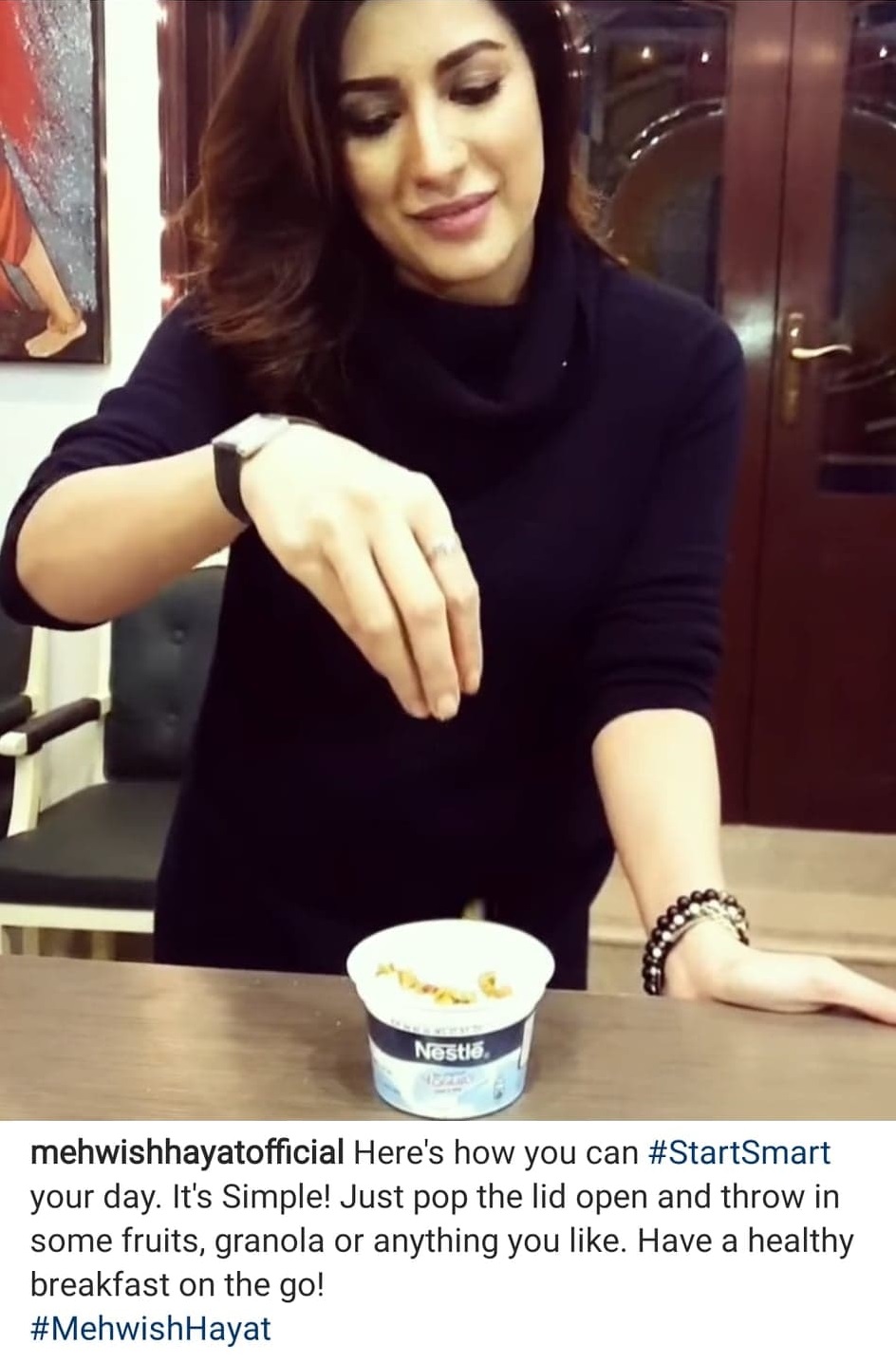 Fish Cutlets by Juggun Kazim
Juggun Kazim is an experienced YouTuber now. All that she shares on her channel is varied in nature and she tries to cover as many aspects of her life as she can. She also tries to educate people about healthy eating choices and all the recipes she shares are usually those which are consumed by her and her family as well. Juggun Kazim shared the recipe of Fish Cutlets on her channel. This is a staple in every household and serves as an appetizer, however, it is going to be a healthier option because it is made out of fish.
Healthy Meal Plan by Nadia Khan
Nadia Khan has lost a lot of weight. This is the reason why most of the recipes she shares with her viewers on her Youtube channel are healthy and calorie deficient in nature. She took it to her channel to share the meal plan of what she eats during the entire day. She broke it down to simple steps and all the recipes she shared were simple and quick.
This concludes the list of quick and easy recipes shared by Pakistani celebrities. Which one of these are you most likely going to try? Do you feel the celebrities are doing a great job by sharing such healthy meals with their fans? Feel free to share your opinion in the comment section below.